Because kids don't come with instructions
The School Foundation has teamed up with Bright by Text to send free activities, games, and resources right to your cell phone. Messages are targeted to your child's age and include information on child development, language and early literacy, health and safety, behavioral tips, and more.

This program, already offered in other communities around the nation, offers parents and caregivers expert tips and resources for children up to the age of eight. Interactions a child has with adult caregivers at this stage of their life sets the foundation for future learning, behavior, and health. Bright by Text shares fun and easy activity ideas, positive parenting tips and resources, and information about the child's physical development.

In addition, Bright by Text sends occasional messages about events and resources specific to the Florence community such as preschool open enrollment periods and local events. To sign up, simply text "SCKIDS" to 274448. To sign up additional children, simply text "SCKIDS" to 274448 an additional time for each child, as all text messages are age appropriate to the child.
How it Works:
At sign up, families provide their child's age (or expected due date) and zip code
Users are asked whether they prefer to receive messages in English or Spanish
Messages are delivered 2 to 4 times per week and are tailored to the child's age
Community messages provide information about local events and resources
Messages include a link to a landing page with more information, often including short videos
Anyone who cares about children, from grandparents to babysitters to teachers can sign up! Sign up now!
Want to sign up a large group? Click on the button below, complete the sign-up sheet and return to This email address is being protected from spambots. You need JavaScript enabled to view it.. We will enter the information for you!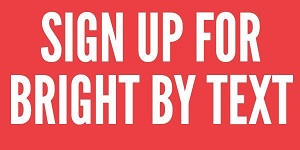 Would you like Bright by Text postcards, bookmarks and posters to distribute to friends, family or co-workers? Complete the materials order form and return to us today!
Partners, want to send out a message to the community? Complete the message request form and return to This email address is being protected from spambots. You need JavaScript enabled to view it. or fax to (843) 662-9866 two weeks prior to your event.
Have questions? Frequently Asked Questions may can help!
This service is provided free of charge by The School Foundation.